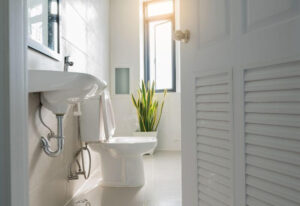 Spring is upon us, and it's time to think about all those homeowner chores that add up to spring maintenance. When you look at your list, you've probably got spring cleaning, lawn maintenance, and maybe even auto maintenance, but have you included spring plumbing maintenance? You should, and we can show you how, in a few simple steps.
Check for leaks. Inspect your faucets, toilets, and pipes for leaks. Sometimes toilet leaks are inconspicuous, but you can check for leaks in the tank and bowl by putting several drops of food coloring in the tank. If the color shows up in the bowl, you have a leak. You can also look for hidden leaks by checking the water meter and watching to see if it moves when no water is turned on in the house. By fixing any leaks you find, you'll save money on your water bill and avoid costly repairs.
Tend to your drains. Make sure that all your drains have strainers to keep scraps and hair from clogging your pipes. If there are any drains in your house that aren't used frequently, rinse them by pouring in a gallon of water. This can help ensure that odors won't enter your home and the drains won't be problematic. If you have a floor drain, make sure it's not running slow. If it is, snake it.
Flush your water heater. Once a year, empty the water heater and flush out any sediment. If your water heater is over ten years old or requires frequent repair, consider replacing it with a more energy efficient model. To keep your energy bills low, keep the water heater set no higher than 120 degrees Fahrenheit.
Check your appliances. As part of your spring plumbing maintenance, inspect the water supply hoses of your dishwasher, ice maker, and washing machine to make sure they're not bulging or leaking. If they have visible signs of damage or are over three years old, consider replacing them. Check the lint trap on your washing machine to keep debris from getting into your plumbing.
Clean your fixtures. Especially if you have hard water, you're likely to have mineral buildup on your shower heads and faucets. This can be prevented by installing a water softener, but in the meantime, you can clean your shower head by soaking it in vinegar overnight.
Inspect your outdoor plumbing. Your spring plumbing maintenance shouldn't be limited to the interior of your house. Clean out your gutters and downspouts and make sure your exterior faucets are working properly, with no leaks or damage from the winter.
No matter the season, you can count on Mike Counsil Plumbing and Rooter to provide stellar plumbing service with a smile. Since 1994, we've served San Jose, California, and the South Bay Area, building a reputation on excellent service and a 100 percent satisfaction rate. Our family-owned and -operated company is committed to exceeding our clients' expectations, and our staff is kept up to date on all the latest advances in the industry. 24 hours a day, 7 days a week, we're available to take care of plumbing issues that can't wait. Call 408.705.4820 or contact us through our website to learn more.