Plumbing Services in San Jose, CA
You Choice for Experienced Plumbers
Mike Counsil Plumbing & Rooter is your go-to place for plumbing services in San Jose, CA. Whether you need help with busted water pipes, trenchless sewer line repairs, or need a water heater installed, we are here for you. Our professional plumbing contractors offer emergency services and always act fast to help you with plumbing problems. We are committed to providing the highest quality services with a 100 percent satisfaction rate. As a family-owned and locally operated company, we always prioritize your needs. Contact us today for plumbing services.
The Importance of Professional Plumbing Services
It's an excellent talent to be handy around the home with plumbing, but it takes formal plumbing training to ensure you won't make disastrous mistakes. A plumbing professional offers comprehensive solutions, from plumbing installation to plumbing maintenance. Our plumbing technicians are trained, licensed, and insured to work with plumbing. We have a trained eye to understand what is wrong with your plumbing and find the most effective solution. Our innovative plumbing technology handles your problems as efficiently as possible without any mess. You need a professional plumbing team on your side to ensure optimal plumbing services.
What Falls Under Plumbing?
Rely on our plumbing professionals at Mike Counsil Plumbing and Rooter for your residential plumbing needs. We offer multiple plumbing services, including: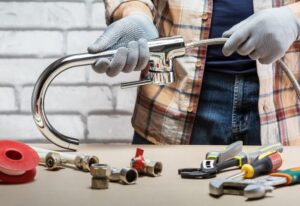 Common Residential Plumbing Issues
Our knowledgeable plumbing team can handle any plumbing issue. The most common plumbing issues we encounter include the following:
Running Toilets
Water Backflow
Low Water Pressure
Home Protection Plans for All-Year Maintenance
The best way to stay on top of your plumbing is to count on us for plumbing maintenance. We offer an Annual Maintenance Plan for flushes, tune-up, and leak checks. Our Home Protection Plan provides front-of-the-line service. All our plumbing services and replacements come with a 2-year guarantee.
Choosing Mike Counsil Plumbing & Rooter
Mike Counsil Plumbing & Rooter is here for all your plumbing needs. We offer hydro jetting, rooter services, leak detection, camera inspections, drain cleaning, and more. We have a superior rating at the Better Business Bureau and a place in the Angi's List Hall of Fame for a reason. Our customers can trust us with all their plumbing needs. We always find an efficient, cost-effective solution to ensure your plumbing is flowing perfectly.
Contact Us for Plumbing Services
Contact our team immediately for emergency plumbing services if you have a plumbing emergency. We are proud to be here for you for all your plumbing issues. We offer financing options for your peace of mind. Mike Counsil Plumbing & Rooter is committed to affordable prices, excellent services, and customer service. Contact us today to schedule a plumbing appointment.
Mountain View's Top-Rated Plumber
Welcome to our plumbing FAQ guide, where we aim to answer the most commonly asked questions about plumbing in the San Jose, Mountain View, California, and surrounding South Bay Area. Mike Counsil Plumbing & Rooter is dedicated to providing top-notch plumbing services to our community, ensuring you always have the best solutions at your fingertips.
Why does my water look yellow?
A: Yellow water can often indicate the presence of rust or sediments in your pipes, especially in older homes with corroded pipe systems. Regular plumbing maintenance can help in identifying such issues early.
What's the difference between hard water and soft water?
A: Hard water contains higher amounts of minerals like calcium and magnesium. Soft water, on the other hand, has been treated, stripping away these minerals, which can be beneficial for your home appliances and skin.
How can I increase water pressure in my home?
A: Low water pressure can be due to a variety of reasons, including blocked pipes or a malfunctioning pressure regulator. Reach out to a plumber to diagnose and provide the necessary plumbing repair.
How often should I have my sewer lines jetted?
A: On average, homes should have their sewer lines jetted every 18-22 months. However, if you have frequent blockages or tree roots near your lines, you may need to do it more often.
What can't I put down my garbage disposal?
A: Avoid fibrous foods, grease, eggshells, and non-food items. They can cause clogs and damage to the disposal.
What's the difference between drain cleaning and sewer cleaning?
A: Drain cleaning is specific to individual drains within your home like sinks or bathtubs. Sewer cleaning, however, involves the main sewer line which collects all the waste from these drains.
Could my water heater blow up?
A: While extremely rare, without proper maintenance, a buildup of gas or pressure can lead to an explosion. Ensure you're enrolled in a home plumbing protection plan and have regular checks.
Which water heaters qualify for a tax credit?
A: Generally, energy-efficient models can qualify. Always check with the manufacturer and tax guidelines to be certain.
Will my home insurance cover sewer line damage?
A: Typically, most standard policies don't. It's important to speak with your insurance provider and consider additional endorsements if needed.
What does it mean if my water bill is much higher than usual?
A: A sudden spike could indicate a leak. It's essential to consult with plumbing professionals for water leak repair immediately.
What are my options if there are roots in my sewer line?
A: Root intrusion can be addressed by mechanical cutting, chemical treatments, or in extreme cases, replacement of the sewer line.
What does it mean if my water heater is making a popping or crackling noise?
A: These noises often indicate a buildup of sediment at the bottom. Draining and cleaning the tank can help.
How do I know if I need a repipe?
A: Frequent leaks, discolored water, and a noticeable drop in water pressure are signs you might need a repipe. Always seek advice from professionals on corroded pipe repair.
Your Home's Plumbing, Our Priority
We understand how crucial a well-functioning plumbing system is for your home. Whether you're dealing with minor annoyances or significant concerns, don't hesitate to tap into our expertise. Contact us today to schedule a consultation for all of your plumbing and pipe repair. Remember, at Mike Counsil Plumbing & Rooter, your peace of mind is our top priority.