Plumbing Services in San Jose, CA
You Choice for Experienced Plumbers
Mike Counsil Plumbing & Rooter is your go-to place for plumbing services in San Jose, CA. Whether you need help with busted water pipes, trenchless sewer line repairs, or need a water heater installed, we are here for you. Our professional plumbing contractors offer emergency services and always act fast to help you with plumbing problems. We are committed to providing the highest quality services with a 100 percent satisfaction rate. As a family-owned and locally operated company, we always prioritize your needs. Contact us today for plumbing services.
The Importance of Professional Plumbing Services
It's an excellent talent to be handy around the home with plumbing, but it takes formal plumbing training to ensure you won't make disastrous mistakes. A plumbing professional offers comprehensive solutions, from plumbing installation to plumbing maintenance. Our plumbing technicians are trained, licensed, and insured to work with plumbing. We have a trained eye to understand what is wrong with your plumbing and find the most effective solution. Our innovative plumbing technology handles your problems as efficiently as possible without any mess. You need a professional plumbing team on your side to ensure optimal plumbing services.
What Falls Under Plumbing?
Rely on our plumbing professionals at Mike Counsil Plumbing and Rooter for your residential plumbing needs. We offer multiple plumbing services, including: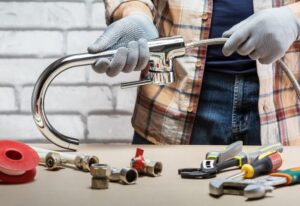 Common Residential Plumbing Issues
Our knowledgeable plumbing team can handle any plumbing issue. The most common plumbing issues we encounter include the following:
Running Toilets
Water Backflow
Low Water Pressure
Home Protection Plans for All-Year Maintenance
The best way to stay on top of your plumbing is to count on us for plumbing maintenance. We offer an Annual Maintenance Plan for flushes, tune-up, and leak checks. Our Home Protection Plan provides front-of-the-line service. All our plumbing services and replacements come with a 2-year guarantee.
Choosing Mike Counsil Plumbing & Rooter
Mike Counsil Plumbing & Rooter is here for all your plumbing needs. We offer hydro jetting, rooter services, leak detection, camera inspections, drain cleaning, and more. We have a superior rating at the Better Business Bureau and a place in the Angi's List Hall of Fame for a reason. Our customers can trust us with all their plumbing needs. We always find an efficient, cost-effective solution to ensure your plumbing is flowing perfectly.
Contact Us for Plumbing Services
Contact our team immediately for emergency plumbing services if you have a plumbing emergency. We are proud to be here for you for all your plumbing issues. We offer financing options for your peace of mind. Mike Counsil Plumbing & Rooter is committed to affordable prices, excellent services, and customer service. Contact us today to schedule a plumbing appointment.