It's easy to overlook the importance of maintaining your sewer and drain pipes—until a problem occurs, that is. Many homeowners simply expect all of their drains to work without giving them much thought, until the day that they start overflowing. Regular drain cleaning can help you avoid the expense and inconveniences associated with blocked and overflowing drains. Here are just a few of the reasons you should make sure keeping your drains cleaned is on your spring cleaning to-do list.
Prevent Sewer Odor
One of the first signs many homeowners will notice of a problem with their drains is an odor. The odor may come from one drain or multiple drains throughout the home, and it will linger in the air, even when the drains are not in use. Drain cleaning will remove any blockages that are contributing to the odor and allow lines to flow clearly, which in turn will prevent the sewer odor from occurring.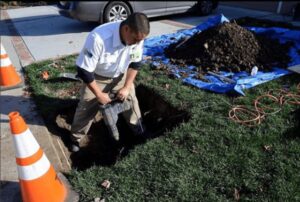 Reduce the Risk of Overflows
When drains back up and overflow, they could introduce sewage into your home. The bacteria can pose a significant risk to your health and the health of your family. In addition to carrying bacteria into your home, overflows can cause flooding that damages your walls, floors, and furniture. Regular drain cleaning reduces the risk of blockages, so that overflows are much less likely to happen.
Find Damage in Early Stages
Over time, internal damage to your drains and water and sewer lines can occur. Often, homeowners don't know about this damage until it becomes severe. During drain cleaning services, your plumber may identify signs of damage, so you can make repairs before the problem progresses. This can prevent the need for expensive repairs and damage to your home.
For drain cleaning in San Jose, choose Mike Counsil Plumbing. We offer a range of plumbing services, including preventative maintenance, tune-ups, and video inspections. Make an appointment for drain cleaning by calling (408) 618-8002.