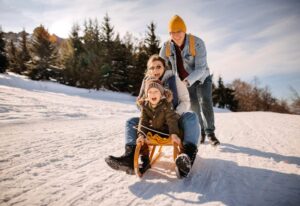 If you're like most homeowners, you're always on the lookout for ways to cut costs on utilities and other expenses you can't avoid. Fortunately, while winter always brings with it certain heating costs, there are ways to reduce these expenses by just being a little bit proactive. Here, we offer some simple ways you can cut your heating and plumbing costs this winter.
Keep up with routine plumbing and heating services. To maintain your heater, change your air filters as directed, have a professional in to inspect your heating system at the beginning of the season, and keep up with routine maintenance. When it comes to your plumbing system, repair leaks promptly, insulate your pipes, and properly maintain your water heater. These steps will all save money in two ways: they'll keep your systems running the way they should, and they'll prevent costly emergency repairs in the dead of winter.
Set and forget your thermostat. The recommended temperature for a thermostat in winter is 68 degrees Fahrenheit. While it may be tempting to crank up the heat when it's freezing outside, it's much less expensive to put on socks and a sweater. Keeping your thermostat at a consistent temperature will save money on your heating costs.
Make the most of natural light. The sunlight streaming through your windows during the day can warm your home significantly, so that your heating system doesn't have to work as hard. At night, closing the shades and curtains can provide insulation against the cold outside and keep your warm air from escaping.
Mind the drafts. Do a walk-through, checking your house for drafts. Seal around any windows where you feel air entering, use door sweeps on your external doors, and consider covering your windows and casement, to prevent air transfer between the inside and outside of your home.
Insulate. If you think the insulation in your house may not be sufficient, hire a professional to inspect it and make any necessary amendments. Some types of insulation you can do yourself, though. Insulate your pipes to keep them from freezing and bursting, and insulate your home by covering the floors with carpets that will help keep the house warm and help you to resist the urge to turn up the heat.
If you need help with your plumbing system, you can count on Mike Counsil Plumbing and Rooter to provide stellar plumbing services with a smile. Since 1994, we've served San Jose, California, and the South Bay Area, building a reputation on excellent service and a 100 percent satisfaction rate. Our family-owned and -operated company is committed to exceeding our clients' expectations, and our staff is kept up to date on all the latest advances in the industry. 24 hours a day, 7 days a week, we're available to take care of plumbing issues that can't wait. Call 408.705.4820 or contact us through our website to learn more.