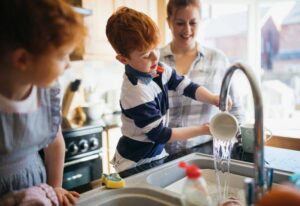 Spring is a perfect time to refresh your home and yard, and that includes maintaining your plumbing. Winter can be rough on your plumbing, but some spring plumbing maintenance can catch issues before they become costly problems. Here are seven spring plumbing tips to prevent problems later in the year.
Check your pipes for winter wear and tear. If it's dipped below freezing, there's a chance that exposed pipes in your house have been damaged by the cold. Catching that damage early can prevent leaks that could wind up being costly.
Inspect your fixtures. Check for dripping or leaky faucets and make sure your drains are clear, without clogs. Put strainers in the drains to prevent debris and hair from clogging the pipes.
Maintain your water heater. Spring is a great time to drain the water heater and flush out the sediment. If it's over 15 years old, it may be time to replace it.
See to your appliances. Make sure there are no leaks around your washing machine, dishwasher, and ice maker, and replace any hoses that seem worn.
Test your water pressure. If your water pressure is low, you may have a hidden leak. Determining the problem before it becomes serious can save you money and prevent irreversible damage.
Look for leaks. Inspect your toilet to make sure it's not running and doesn't have any hidden leaks or cracks. Put several drops of food coloring in the tank and see if it makes its way into the bowl within 15 minutes. If it does, you have a leak. Check for leaks outdoors, too, especially if you didn't winterize your pipes in the fall.
Schedule spring plumbing maintenance. One of the smartest things a homeowner can do is have a professional come and give your plumbing a once-over once a year. An expert plumber will inspect every aspect of your plumbing system to make sure everything is in good working order.
When you need help with spring plumbing maintenance, you can count on the professional plumbing contractors at Mike Counsil Plumbing and Rooter to provide stellar plumbing service with a smile. Since 1994, we've served San Jose, California, and the South Bay Area, building a reputation on excellent service and a 100 percent satisfaction rate. Our family-owned and -operated company is committed to exceeding our clients' expectations, and our staff is kept up to date on all the latest advances in the industry. 24 hours a day, 7 days a week, we're available to take care of plumbing issues that can't wait. Call 408.705.4820 or contact us through our website to learn more.