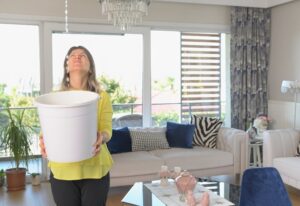 How to Prevent Leaky Pipes
As a homeowner, nothing is more frustrating than finding a water leak. It might start as a tiny drip, but it doesn't take long to escalate into structural damage, costly repairs, and a skyrocketing utility bill. If you hope to avoid such scenarios, learn the most common causes of water pipe leaks and how to prevent each one.
High water pressure: Excessively high water pressure can weaken the integrity of your pipes. If you notice banging noises or water spraying from the faucets, the pressure could be above the recommended level. You can easily measure your home's water pressure using a gauge that fits on an outdoor spigot. If the reading indicates pressure significantly above 60 psi, installing a water pressure regulator should fix the problem and prevent water leaks.
Loose pipe fittings: Traditional pipe materials require fittings to curve around corners. Loose pipe fittings lead to preventable water leaking repair. Regularly inspect the pipes and fittings below your sinks, in utility closets, and elsewhere throughout your home to ensure they're properly tightened. Just be careful not to over-tighten, as this can lead to additional damage.
Leaky joints: Unsealed or poorly sealed joints lead to persistent leaks. Showerheads are a common place for this to happen. To fix it, remove the leaky fitting, apply plumber's tape, and tighten the joint. This simple process reduces the need for future water pipe leak repair.
Hard water damage: Hard water silently destroys your pipes from the inside. Over time, the minerals in hard water cause your pipes to corrode. Installing a water softener counteracts these effects, protecting your pipes and preventing costly leaks.
Burst pipes: Freezing temperatures are the number one cause of burst pipes. This isn't a common issue in the San Jose area, but it's still wise to implement the recommended prevention method: insulate your pipes. In addition to preventing frozen pipes, insulation helps your water heat up faster at the tap, reducing waste. It also minimizes condensation to avoid corrosion and extend your pipes' lifespan.
Degraded rubber supply hoses: The hoses that attach your plumbing appliances and fixtures to the water pipes are traditionally made of rubber. Unfortunately, this material can harden and crack over time, increasing the chance of a leak. Replace your washing machine, dishwasher, and ice maker hoses with braided steel versions to dramatically reduce this likelihood.
Neglected pipes: Ignoring your plumbing system sets you up for failure. On the other hand, regular pipe maintenance can detect and repair small problems early, preventing more serious issues later on.
Most of these tips to prevent plumbing leaks are DIY-approved, but should your efforts falter, Mike Counsil Plumbing is here to help. Our family-owned company has provided exceptional customer service and top-notch water leak repair since 1994. We're deeply committed to staying current with evolving trends and technologies, so you can trust us for all your plumbing needs in San Jose, Mountain View, and the surrounding South Bay area. Call us at 408-916-1226 or contact us online to speak with a knowledgeable plumbing technician about your concerns.