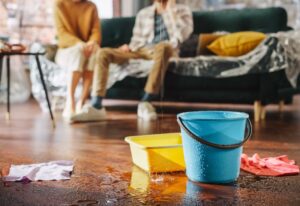 What to Do When You Have a Water Leak
Did you just spot a water leak? Don't panic! Knowing how to respond can significantly reduce property damage and restore your peace of mind. Consider some effective strategies for handling different types of water leaks.
How to Handle Non-Damaging Leaks
Water leaks confined to the sink, toilet, or tub may seem insignificant, but don't let them fool you. Continuous dripping is wasteful, so even though your property isn't at risk, confined leaks can inflate your utility bills. Follow these steps to address the problem:
Identify the source: A silently dribbling faucet or constantly running toilet is evidence of a non-damaging leak.
Shut off the water supply: For isolated leaks, turn off the water source to that area before attempting a repair.
Fix the leak: With the proper tools and a little know-how, you may be able to fix a leaky faucet, showerhead, or toilet yourself.
Call a professional: If your DIY efforts prove fruitless, or you prefer to trust a professional from the get-go, hire a plumber for water leaking repair.
What to Do About Category 1 and 2 Water Leaks
Category 1 water involves a leaking supply line, overflowing sink, or burst pipe. The water comes from a sanitary source, so it doesn't pose a serious health hazard—at least not yet. A Category 2 leak is a bit more serious. This stems from wastewater associated with faulty appliances or leaky drain pipes. A Category 1 leak can cause Category 2 damage if left unaddressed long enough to promote mold growth. Here's how to repair this type of water leak:
Control the water source: Start by shutting off the water to prevent further damage.
Mop up excess water: Clean the area with mops, towels, and fans to prevent water from seeping into the floors or walls.
Contact a professional: If you can't fix the leak on your own, contact a skilled plumber to inspect your system, identify the problem, and perform the necessary water pipe leak repair.
The Dangers of Category 3 Water Leaks
Category 3 water is highly contaminated and can cause serious illness. Overflowing toilets, sewage backups, and floodwater are considered Category 3. To preserve your safety and reduce property damage, follow these tips:
Steer clear: Due to potential health hazards, keep everyone away from the affected area.
Cut off utilities: If the water damage is extensive, turn off the gas and electricity to minimize dangers.
Reach out for help: Immediate professional water leak repair is essential to recover from a Category 3 leak. Contact a plumber, a water damage restoration company, and your insurance provider.
Schedule Water Leak Repairs
In the event of a water leak, you want a dedicated team by your side. Mike Counsil Plumbing provides top-notch plumbing services in San Jose, Mountain View, and the surrounding South Bay area. We're proud to be a family-owned company with experience dating back to 1994. With a superior BBB rating and countless positive reviews, you can trust that your home is in good hands. Our emergency leak repair services are just a phone call away, so reach out now at 408-916-1226.