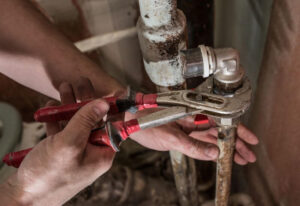 We all know that nothing lasts forever, but sometimes we forget. When it comes to the pipes in our homes, for example, we tend to expect them to work well indefinitely. Especially if you live in an older home, though, it's important to watch for signs that it's time to replace your pipes.
If your pipes are made if a dangerous material, replace them. Lead pipes are extremely dangerous to your health, and polybutylene pipes are likely to rupture. If you have either of these types of pipes in your home, replace them as soon as possible. How do you know the composition of your pipes? You can review the home inspection report from when you bought your house to learn your pipe composition or call a trusted plumber to inspect your plumbing system.
Inspect your pipes visually to look for signs of trouble. Rust stains, discoloration, dimpling, and flaking all indicate a problem that requires professional evaluation. You may not need to completely replace your pipes, but the plumber can give you an idea of the repairs that should be made. A cracked pipe, however, needs to be replaced.
Leaky pipes can indicate a problem. Some plumbing leaks can be repaired, while others require pipe replacement. Even small leaks should be repaired quickly before they become major problems, and if leaks become frequent, replacing pipes may be necessary. Remember, all of the pipes in your home are the same age and material, so when leaks start in one area, they're likely to spread to other areas as well.
Discolored water can be a sign of damage. If you turn on the water after several days of not running it and it's brown or yellow, it could be a sign of rust. If the water remains discolored after a day or two, don't use it. Instead, call a plumber to talk about replacing your pipes. Rusty pipes don't just produce unpleasant water colors, they're also prone to leaking.
Frequent clogging can indicate corrosion. Your pipes can clog when you put the wrong things in them, of course, or from a buildup of minerals, dirt, and soap scum. However, clogs also happen when pipes are corroding from the inside out. Recurrent clogs warrant an inspection by the plumber to see if you need pipe replacement.
Low water flow can be a complicated problem. It could be a simple clog, or it could be pinholes or leaks that will necessitate replacing your pipes.
Whether you need a minor repair or to replace your plumbing, you can count on the professional plumbing contractors at Mike Counsil Plumbing and Rooter to provide stellar plumbing service with a smile. Since 1994, we've served San Jose, California, and the South Bay Area, building a reputation on excellent service and a 100 percent satisfaction rate. Our family-owned and -operated company is committed to exceeding our clients' expectations, and our staff is kept up to date on all the latest advances in the industry. 24 hours a day, 7 days a week, we're available to take care of plumbing issues that can't wait. Call 408.705.4820 or contact us through our website to learn more.