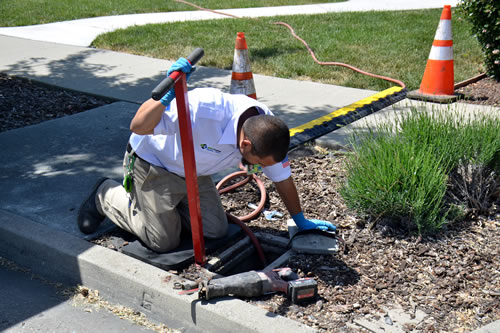 When a leaky pipe, rusted water heater or overflowing toilet threatens to flood your home, you need to know where the main water supply shut-off valve is located – and fast! It's also helpful to know how to shut off water to individual plumbing fixtures. We've got the instructions you need right here.
Start by searching inside the house. The most likely place to find the water shut-off valve is on a wall in the basement or crawlspace toward the front of the house. If your home is built on a slab, check in the garage or near the water heater.
Check outside the house next. If the water shut-off valve is outside, it will be buried in a box near the street. Look for a round or rectangular metal cover labeled "water meter" that sits flush with the sidewalk or grass.
If you check these places and still can't find the water shut-off valve, call Mike Counsil Plumbing for help.
If the valve is located inside your home, simply turn it clockwise all the way. You should be able to turn it by hand with no tools required.
If the valve is located outside, you must first remove the water meter cover to access it. Sometimes, covers lift off with no tools needed – they simply need a little twist. Other covers require you to "unlock" them with pliers, a pentagon socket wrench or meter key.
Once the cover is removed, locate the residential water supply shut-off valve inside the box.  This is the valve positioned closest to your house. You can always try turning the valve by hand, but if it hasn't moved in years, it's probably too stiff to budge without the proper tool. You'll most likely need a meter key to turn the valve. If you don't have one, it may be possible to use an adjustable wrench instead. Turn the valve clockwise all the way to shut off the water supply.
How to Shut Off Water to Individual Plumbing Fixtures
If you're having problems with a specific plumbing fixture or appliance – such as the washing machine, ice maker, toilet or sink – there's no need to shut off the water to the whole house. You can simply turn the valve on the wall behind the appliance to shut off the water locally.
This is easy to do with a sink or toilet – just reach back there and twist the valve clockwise as far as it will go. As for the washing machine or ice maker in your freezer, you may need to pull the appliance away from the wall to access the valve behind it. Even so, the effort is well worth it because you can limit water damage until the leak or other problem is fixed.
For help finding the main water shut-off valve, or to request other plumbing services in San Jose, please contact Mike Counsil Plumbing at 408-916-1226.