Back
If you're renovating your home, changing your bathroom sink can make a dramatic difference in the appearance of your room. You are no longer limited to installing a simple basin with a cabinet in your bathroom. Today, there are numerous different bathroom sink styles available to suit a different room sizes and styles. As you plan your home improvement process, here is a look at some popular bathroom sink styles.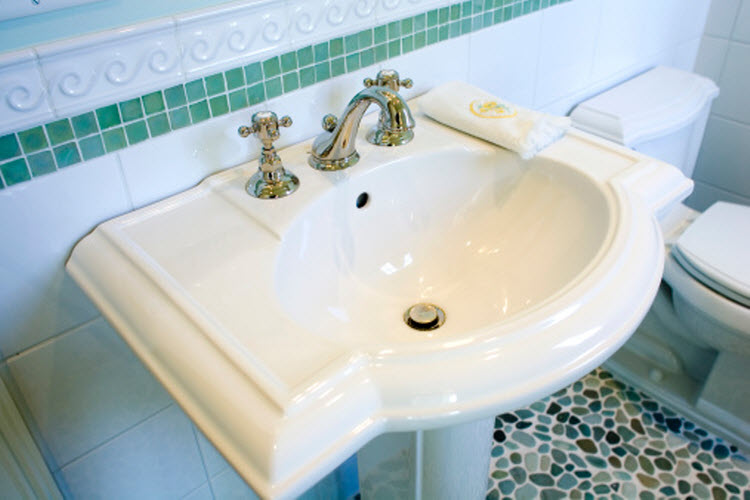 Pedestal Sinks
A pedestal sink has a basin that sits on top of a thin pedestal with an open back that allows access to the drainpipe and water supply lines. In addition to the aesthetic appeal of pedestal sinks, they can also make small bathrooms feel larger, since they don't have a bulky cabinet to take up space. Of course, for some people, the lack of cabinet is a deal-breaker, since it limits cabinet space. A pedestal sink can work well with a wall-mounted medicine cabinet for storage.
Drop-In Sinks
A drop-in sink has a surrounding countertop and a cabinet underneath, but unlike similar sink designs, the sink basin itself sits with the edges exposed, as though it has simply been dropped into the space. These self-rimmed sinks stand out dramatically on the counter, so they make a statement, but they can look clunky if not used as part of a broader design plan that uses the drop-in look as an aesthetic feature.
Vessel Sinks
If you want a unique finish for your new bathroom, choose a vessel sink. Vessel sinks look like bowls sitting on top of a counter, but they have a drain that works like a traditional sink. The vessel can be made in a number of different materials, from glass to bronze. The faucets are mounted behind the sink rather than being attached.
Mike Counsil Plumbing and Rooter is experienced in home improvements in San Jose and can help you create the new bathroom you're envisioning. For more information about all of our plumbing services, call (408) 618-8002.