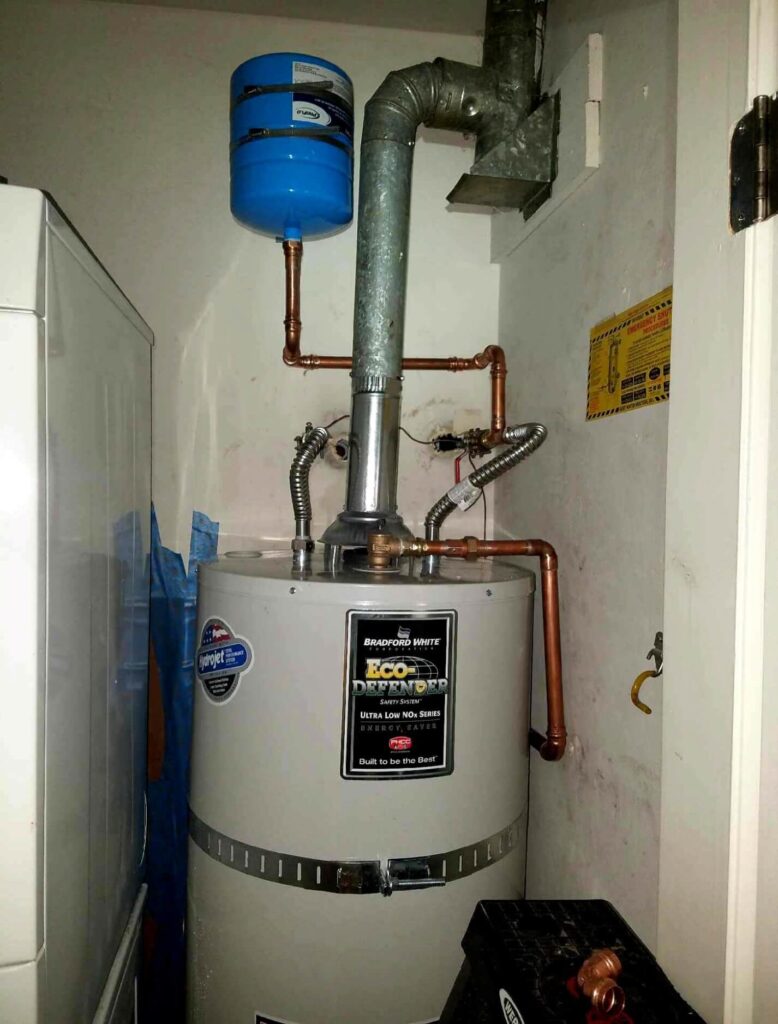 Living in San Jose, California means your home is vulnerable to earthquakes. After the ground settles, you want to go back to normal as quickly as possible, which includes taking a hot shower. Of course, this is only possible if your water heater withstood the shakes and tremors of the quake. Protect this valuable source of fresh water following a natural disaster and prevent costly damages – strap your water heater securely before the next earthquake strikes.
The Problem
Without proper bracing, water heaters can topple in an earthquake, rupturing rigid water and natural gas connections. Water may pour from the tank and flood your home, and a ruptured gas line could lead to a fire or explosion.
Replacing a water heater after an earthquake costs hundreds of dollars, and recovering from flood and fire damage could easily reach tens of thousands of dollars or more. You could prevent all this by properly bracing your water heater tank and preserving your water and gas lines.
Changes in Strapping Recommendations
If your tank was secured decades ago, you might think you're all set. However, old strapping techniques are liable to fail, as many did in the 1989 Loma Prieta (San Francisco) and 1994 Northridge (Los Angeles) earthquakes.
Check your water heater restraints. There should be two straps, not just one, and the strapping should be made of heavy-gauge metal, not brittle plumber's tape. If your setup doesn't meet these recommendations, contact a plumber to help you make the necessary upgrades.
Identifying if Your Water Heater will Survive an Earthquake
If your water heater is freestanding, take steps today to secure it. Here's how:
Make sure the water heater is located within one to two inches of the wall. If it's further away than this, attach a wooden block between the tank and the wall with long lag screws. This prevents the tank from tipping backward.
Purchase a water heater strapping kit at a hardware store or contact a plumber for help completing the following steps.
Install two heavy-gauge metal straps on your water heater, wrapping one around the top third and the other around the bottom third of the tank. If you use a kit, follow the instructions closely for the best results.
Make sure you connect the straps to the studs or masonry of the wall for maximum stability.
Replace all natural gas and water line connectors with flexible versions to help prevent them from breaking during an earthquake.
Install an earthquake shutoff valve that automatically shuts off your natural gas service when it detects sizeable tremors.
Mike Counsil Plumbing can help San Jose homeowners guard against earthquake-related plumbing damage by strapping down the water heater, installing flexible gas and water line connectors, and putting in an earthquake shutoff valve. To learn more about preparing your water heater, plumbing and gas lines for an earthquake, please contact us at 408-618-8002.