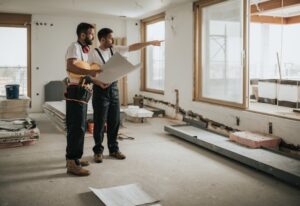 If you're thinking about remodeling your kitchen or bathroom, you may have aesthetic changes in mind, but there's much more going on beneath the surface. Making plumbing a top priority during the planning phase isn't just practical—it's essential. A qualified plumbing company can ensure your new space looks great and functions flawlessly.
The Hidden Importance of Plumbing During a Home Remodel
A successful home renovation is about more than just creating a pretty façade. Behind the walls, under the floors, and inside the cabinets, your plumbing system works hard to make your kitchen or bathroom functional. Plan to work with a reputable plumber to evaluate and upgrade the plumbing early in your project. Here's why:
Quality control: Hiring a professional plumbing company guarantees that all installations and repairs are up to code. You can expect a secure connection of all pipes, less risk of leaks, and adherence to all local building regulations.
Efficiency: Modern plumbing technologies and well-planned designs can transform your home into a water-efficient space. Reputable plumbers can recommend the best fixtures, pipes, and systems to conserve water. This eco-friendly approach reduces your water bills and contributes to a more environmentally conscious home.
Comfort and convenience: Proper plumbing ensures your newly remodeled space provides the desired comfort and convenience. A knowledgeable plumber can install luxurious rainfall showerheads, fast-filling tubs, and user-friendly fixtures that enhance your daily routine. These plumbing services are enough to turn an ordinary bathroom into a spa-like retreat or a standard kitchen into a chef's paradise.
Value enhancement: Quality plumbing is a significant value booster for your property. Expect a well-executed plumbing upgrade to increase the resale value of your home, making it more appealing to potential buyers.
Permits and Professionalism
Don't overlook the importance of obtaining the necessary permits for your remodeling project. These documents ensure everything is done to code, adding an extra layer of safety and quality. Getting permits also prevents complications if you end up selling your property years from now. Skilled plumbing companies are knowledgeable about local regulations and can guide you through the permitting process.
Choosing the Right Plumber
Selecting the right plumber for your kitchen or bathroom renovation is the key to a successful project. Look for an experienced plumbing company with a solid reputation, plenty of positive reviews, and a dedication to quality work. Verify their credentials, compare warranty coverage, and don't hesitate to ask for references.
Make the Right Choice for Your Home
Whether you're upgrading fixtures or undertaking a full renovation, professional plumbing services will ensure the result is both beautiful and functional. Mike Counsil Plumbing would be happy to assist with the plumbing portions of your kitchen or bathroom remodel.
Since starting our business in 1994, we have become a leader in the field, with high-quality services delivered by a dedicated team of plumbing technicians. We excel at finding solutions quickly and cost-effectively and offer a full range of plumbing services to meet your needs. If you're in San Jose, Mountain View, or the surrounding South Bay area, please call us at 408-916-1226 to schedule plumbing services today.